Or maybe they're doing everything right: PRINCETON, NJ -- Democratic candidate Barack Obama has gained ground in the latest Gallup Poll Daily tracking average from Monday, Tuesday, and Wednesday, and now leads Republican John McCain among registered voters by a 48% to 42% margin.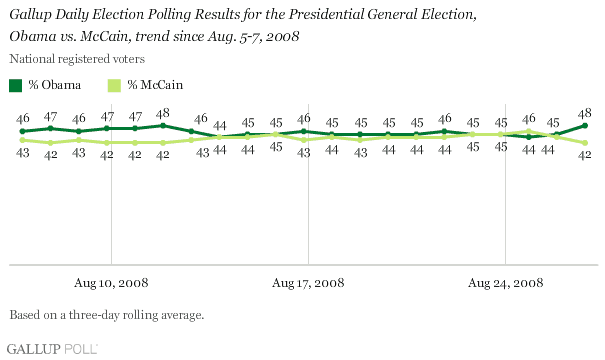 Thus, the current three-day average would reflect any impact of Monday night's speech by Michelle Obama, and Tuesday night's speech by Hillary Clinton, but would not completely reflect Wednesday night's lineup of speakers, such as John Kerry, former President Bill Clinton, and vice presidential nominee Joe Biden, nor the appearance on stage at the end of the evening by Barack Obama himself.

As fladem at Open Left points out, this bounce (if it holds) is already a larger polling bump that Kerry received at any point during or after the DNC Convention in 2004.